Our Foreigners roundtable series focuses on gathering foreigners to discuss their concerns while integrating to this wonderful city. The topic of the next roundtable will be Tackling Hate Speech & Hate Crime.
Hate speech is any form of expression through which speakers intend to humiliate or incite hatred against a group of people. Regrettably, even if hate is not an unlawful act, it can drive people to perpetrate crimes against others.

In this third roundtable with foreigners living in Bratislava, we will be focusing on hate speech and hate crime, their impact, and most importantly how to tackle both. We will be having Police to respond to your questions, so this will be unique opportunity to learn more on how to react if something happens to you!

Join the discussion and share your thoughts and experience. Your views will help us to improve the situation of foreigners in Bratislava.

Event is opened to everybody, is free of charge and working languages will be English and Slovak. Small refreshments will be offered free of charge.
Please note that the aim of this event is to hear your experiences. Your gain will be to
learn more about these topics, your rights, and how to be protected
.
Recommendations raised during the discussion will be presented to the local authorities dealing with these issues.
Place: Open Gallery, Baštová 5
Date and time: 28.3.2019, 18:30
The information about the discussion will be regularly added at
this site
.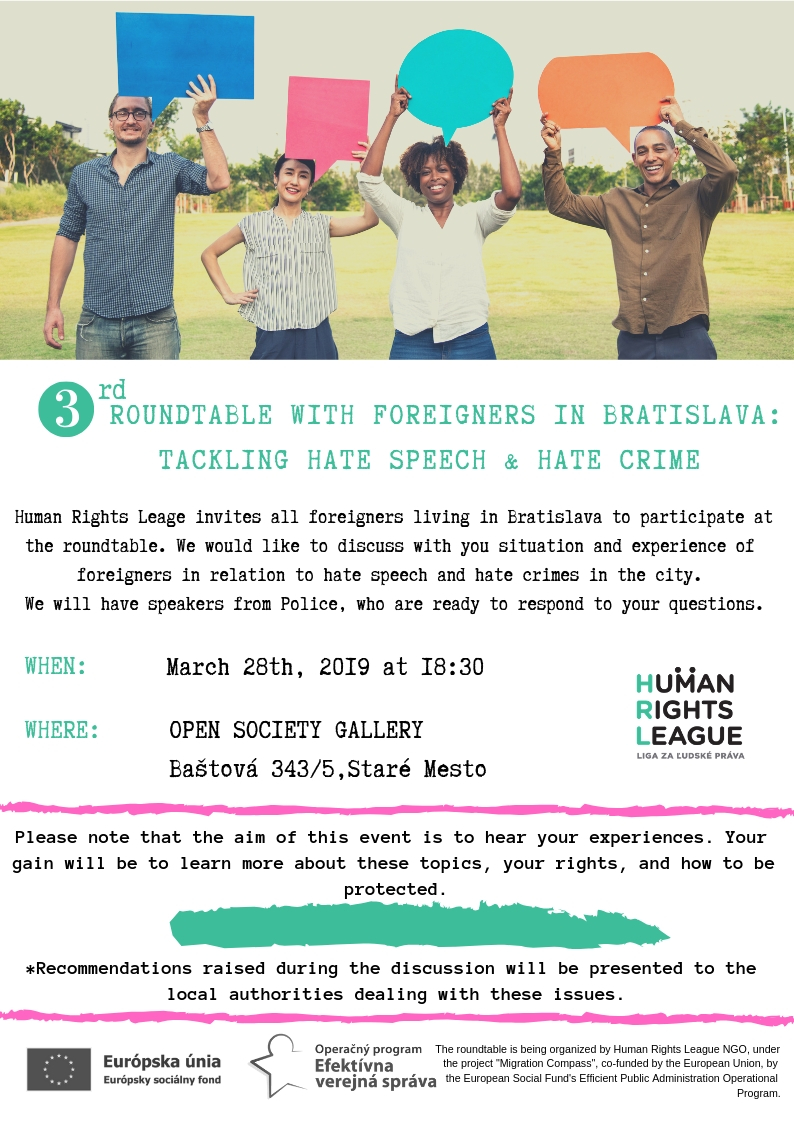 The roundtable discussions are part of the project "Migration Compass" funded through the Operational Programme Effective Public Administration from the European Social Fund.
You can find the outcome from the event
here
.